Donde nacen las palabras
Escrito e ilustrado por Lizardo Carvajal
Redacción e investigación: Maria Luisa Sarriá

Este es un libro para los amantes del lenguaje, un diccionario único que rastrea el origen de 100 palabras preciosas de nuestro idioma y que te sumergirá en un mundo de nuevos significados nacidos de la poética que subyace en la etimología.
Regular price
$80.000 COP
Regular price
Sale price
$80.000 COP
Unit price
per
Sale
Sold out
Many knowAlice in Wonderland.But very few know that the author himself, Lewis Carroll, wrote 130 years ago an adaptation for young children he called Lullaby Alice. 
This beautiful edition, specially curated by LuaBooks, will bring younger children closer to Alice's wonderful universe; so that, after reading it, a boy or a girl«... lie down in the shade of a tree, and wait for a white rabbit to run by, with a clock in her hand: then close your eyes, and think she (or him) is the lovely Alice."

To see a sample of this book click Here
Sheet
Title:

Alice for early readers

Isbn:

 978-959-52681-0-4

Languages:

 

Spanish
Gender:

 

Children's and youth literature
Edition:

 

1st edition
Year of publication:

 2020 

Pages:

 48

Finish:

Rustic

.
Dimensions:

22 x 22.

Approximate weight:

 300

G
What Parents and Teachers Need to Know
Recommended Age
For on-the-go readers (from 6 years old).
Assisted reading from the age of 4.
Teaching possibilities
Invite you to learn about Lewis Carroll's universal classic.
The author's original annotations have been maintained without them interfering with the narrative line.
It provides the possibility to reflect on decision-making.
It presents a very clear view of positive, negative or erratic behaviors of various characters in the story.



Artistic Elements
Original illustrations from 1864 in engraving technique restored for this edition.
Articulate images, stories and sound by providing a complete sensory experience with the AliceTron app®.



Interactivity
You can animate each page of the book with the AliceTron®. (We're still developing it)
Download the app and recreate the scenarios through Augmented Reality.
Posiblidades pedagógicas

Edad recomendada

Para grandes lectores.

Lectura asistida a partir de los 8 años.

Posibilidades didácticas

Combina la ciencia lingüistica con elementos literarios permitiendo una reflexión acerca de la dimensión poética del lenguaje.

Contiene un cuento, más de doscientos significados poéticos construidos a partir de una amplia diversidad de tropos fácilmente identificables, un diagrama, cien etimologías marcadas por sus componentes léxicos y más de cuatrocientas palabras relacionadas entre sí por su lexema principal.

Elementos Artísticos

Ilustraciones hechas con técnica de

collage

llenas de simbolismo que representan la hibridez de las palabras, su estado vivo y su vinculación a los procesos cíclicos del contexto humano

 Interactividad

Explora el libro de forma aleatoria, aceptando la invitación de trepar visualmente por entre cada una de las ramas, al tiempo que descubres nuevos seres-palabras

.
Ficha técnica

ISBN: 978-958-53023-5-8
Idiomas: Español
Edición: 1ª edición
Año de publicación: 2023
Páginas: 64 páginas
Número de ilustraciones: Enteramente ilustrado.
Acabado: Tapaflex con barnizado UV
Dimensiones: 22cm x 19cm
Autores

Lizardo Carvajal

Nació en 1979 en Cali, Colombia. Durante más de una década se ha dedicado a componer, ilustrar, escribir y animar contenidos para niños. Su obra, de carácter libertario y crítico, aborda de forma fresca y poética cuestiones profundas de la vida, llevando, a niños y adultos, historias certeras para el mundo de nuestros días.

Maria Luisa Sarriá

Nació en 1997. Luisa es, esencialmente, una poeta que cree en el poder de la palabra. Pero es más: es editora, traductora, promotora de lectura y narradora. Cuenta con su voz y con sus manos para que las palabras no se le marchiten en el alma. Su mayor convicción es que el arte nos rescata, no porque nos aleje de la realidad sino porque nos confronta con ella.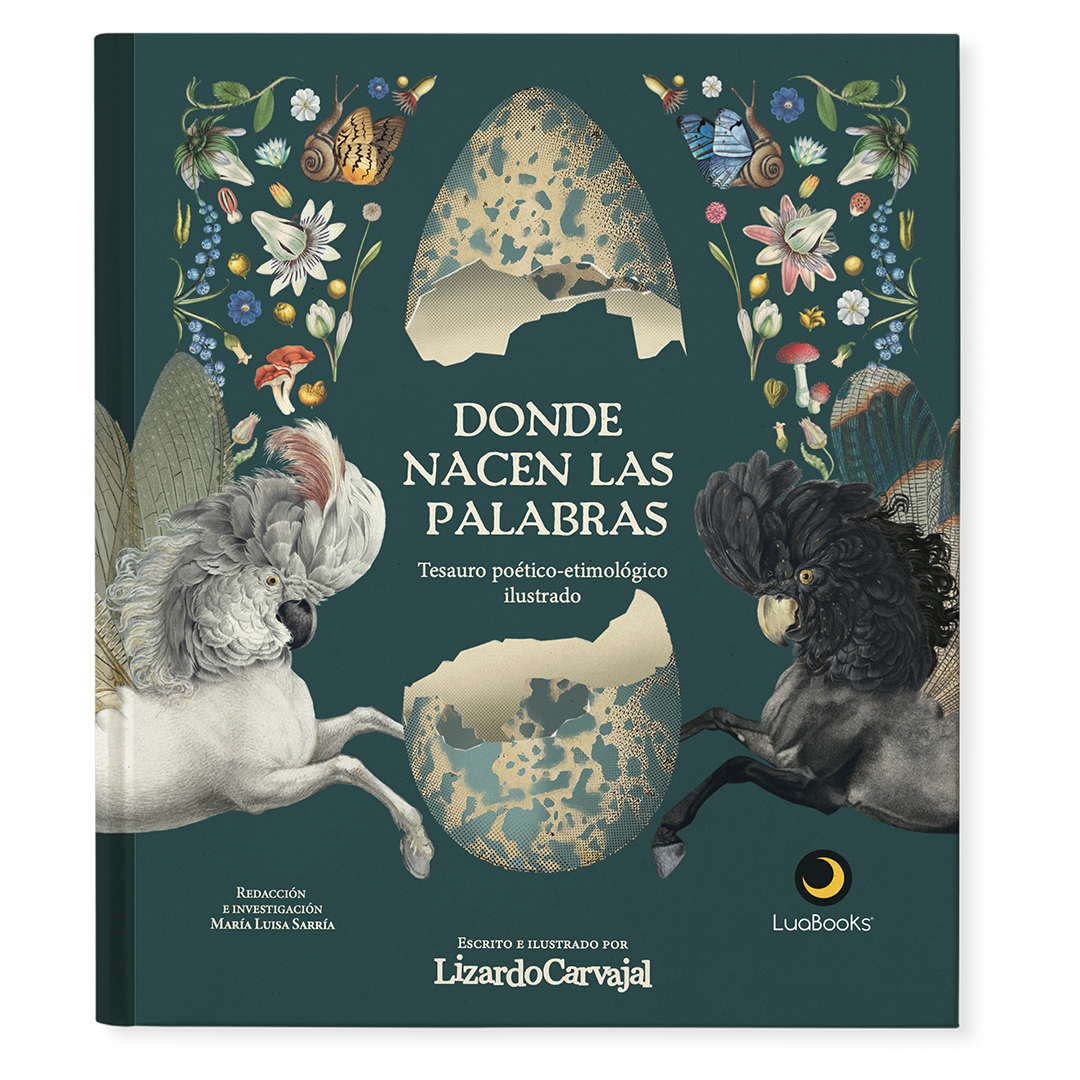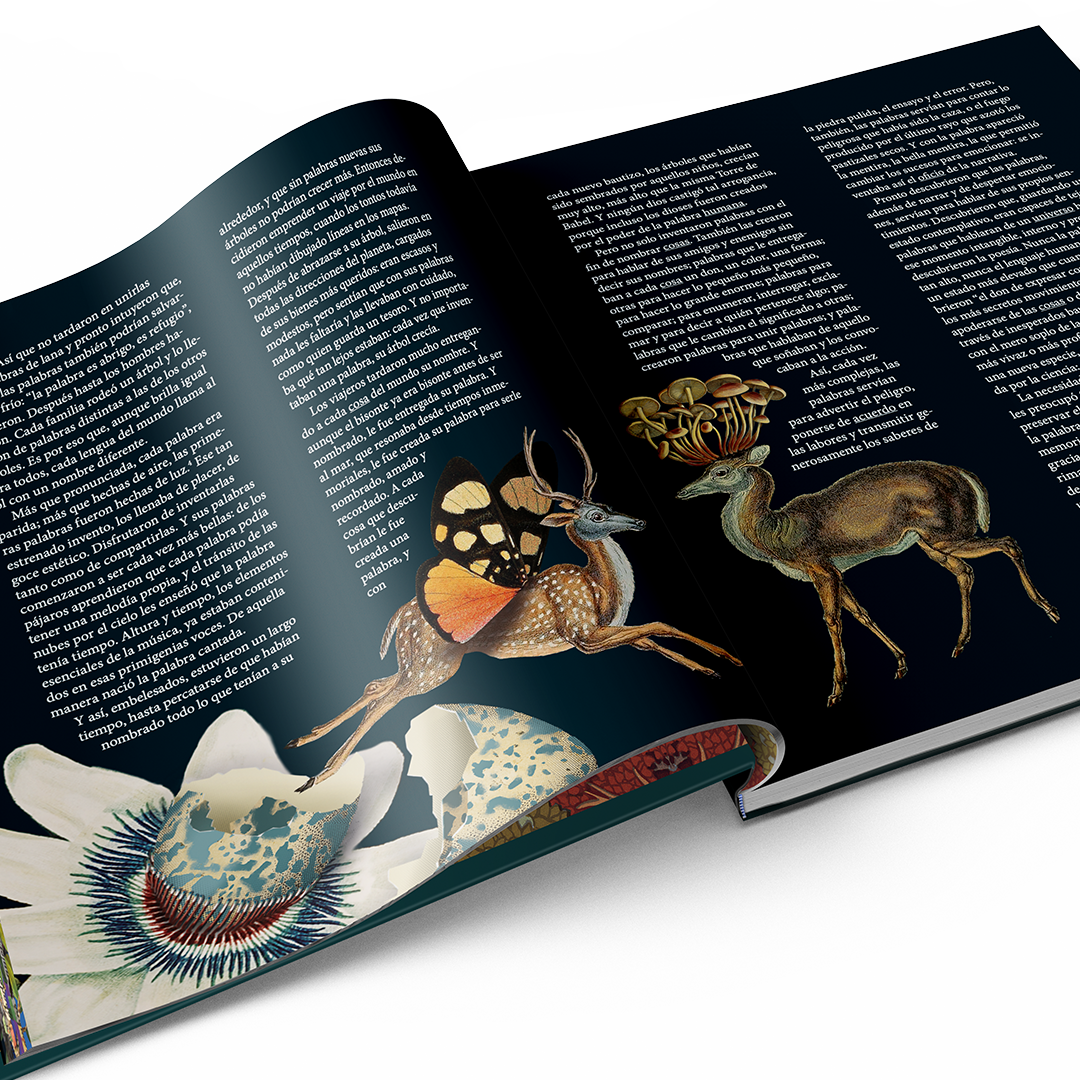 La narración introductoria te convocará al momento justo del nacimiento de las primeras palabras y a su viaje a través del tiempo, en un apasionante relato especulativo.
A continuación, el libro te guiará hasta el gran árbol de las lenguas indoeuropeas; ante su grandeza podrás conocer los diversos idiomas que se derivan de esta posible lengua primigenia.
Esta maravillosa colección de palabras te invitará a perderte entre las ramas de nuestro idioma y de a poco irá entregándote sus mejores frutos en forma de definiciones poéticas, bellas, divertidas e inesperadas.
Sus magníficas ilustraciones evocan la naturaleza híbrida y viva de las palabras, creando una narrativa visual también llena de poesía. En este libro, cada ser, como cada palabra, respira y transita por el mundo.
Quien ame de verdad las palabras, quien sospeche que el idioma, lejos de ser rígido y absoluto es también un argumento de juego, hallará en esta obra una colección de cómplices entrañables: un tesoro visual y literario.
¡Descubre más libros mágicos!