Los ingeniosos mecanismos de Jerónimo della Testa
Escrito e ilustrado por: Lizardo Carvajal
Jerónimo della Testa desea inventar la máquina más ingeniosa del mundo. Con la madera del bosque crea complejos aparatos, pero ninguno parece hacerlo feliz. ¿Encontrará el mecanismo perfecto? Adéntrate en este delirante relato poético, desbordante de imaginación que te llevará a conocer una maravillosa colección de autómatas y la vida de su incansable inventor.
Regular price
$48.000 COP
Regular price
Sale price
$48.000 COP
Unit price
per
Sale
Sold out
ATTENTION: The MekanoTron app is not yet ready for download in app stores.

Written and illustrated by: Lizardo Carvajal
Jerónimo della Testa wants to invent the most ingenious machine in the world. With the wood of the forest he creates complex devices, but none seems to make him happy. Will you find the perfect mechanism? Delve into this delirious poetic tale, overflowing with imagination that will take you to know a wonderful collection of automata and the life of its tireless inventor.

To see a free sample click here
Data sheet
Title:

The ingenious mechanisms of Jerónimo Della Testa

ISBN:

 978-959-52681-1-1

Languages:

 

Spanish
Gender:

 

Children's and young people's literature
Edition:

 

1st edition
Year of publication:

 2020

Pages:

 48

Finish:

Rustic

.
Dimensions:

22 x 22.

Approximate weight:

 300

g
What parents and teachers need to know
Recommended age
For readers on the go (from 7 years old).
Assisted reading from 5 years old.
Didactic possibilities
Lets explore the wonderful world of automaton mechanisms

.
It provides an important reflection on the care of nature and human responsibility towards the environment.



It presents a text written in consonant cross rhyme with a great richness of language.



Issue an important invitation: sow our own seeds.

Artistic Elements
Illustrations in digital watercolor made so that the mechanisms are functional.



Articulate images, stories and sound providing a complete sensory experience with the MekanoTron® App.



Interactivity
You can animate each of the pages of the book with the MekanoTron® application. (We are still developing it)
Download the application and put the machines to work through Augmented Reality.
Descarga muestra gratis

Para ver una muestra gratis haz click 

aquí.
Posiblidades pedagógicas

Edad recomendada

Para lectores en marcha (a partir de 7 años).

Lectura asistida a partir de los 5 años.

Posibilidades didácticas

Permite explorar el maravilloso mundo de la mecánica a través de mecanismos autómatas.

Brinda una importante reflexión sobre el cuidado de la naturaleza y la responsabilidad humana frente al medio ambiente.

Elementos Artísticos

Ilustraciones en acuarela digital realizadas para que los mecanismos sean funcionales.

 Interactividad

Haz a funcionar cada una de las máquinas del libro con la aplicación MekanoTron®.
Ficha técnica

-ISBN: 978-959-52681-1-1
-Idiomas: Español
-Edición: 2 edición
-Año de publicación: 2020
-Páginas: 48
-Acabado: Rústico con barnizado UV
-Dimensiones: 22 x 22
Autores

Lizardo Carvajal

Nació en 1979 en Cali, Colombia. Durante más de una década se ha dedicado a componer, ilustrar, escribir y animar contenidos para niños. Su obra, de carácter libertario y crítico, aborda de forma fresca y poética cuestiones profundas de la vida, llevando, a niños y adultos, historias certeras para el mundo de nuestros días.
¿Por qué dar a tu hijo este libro?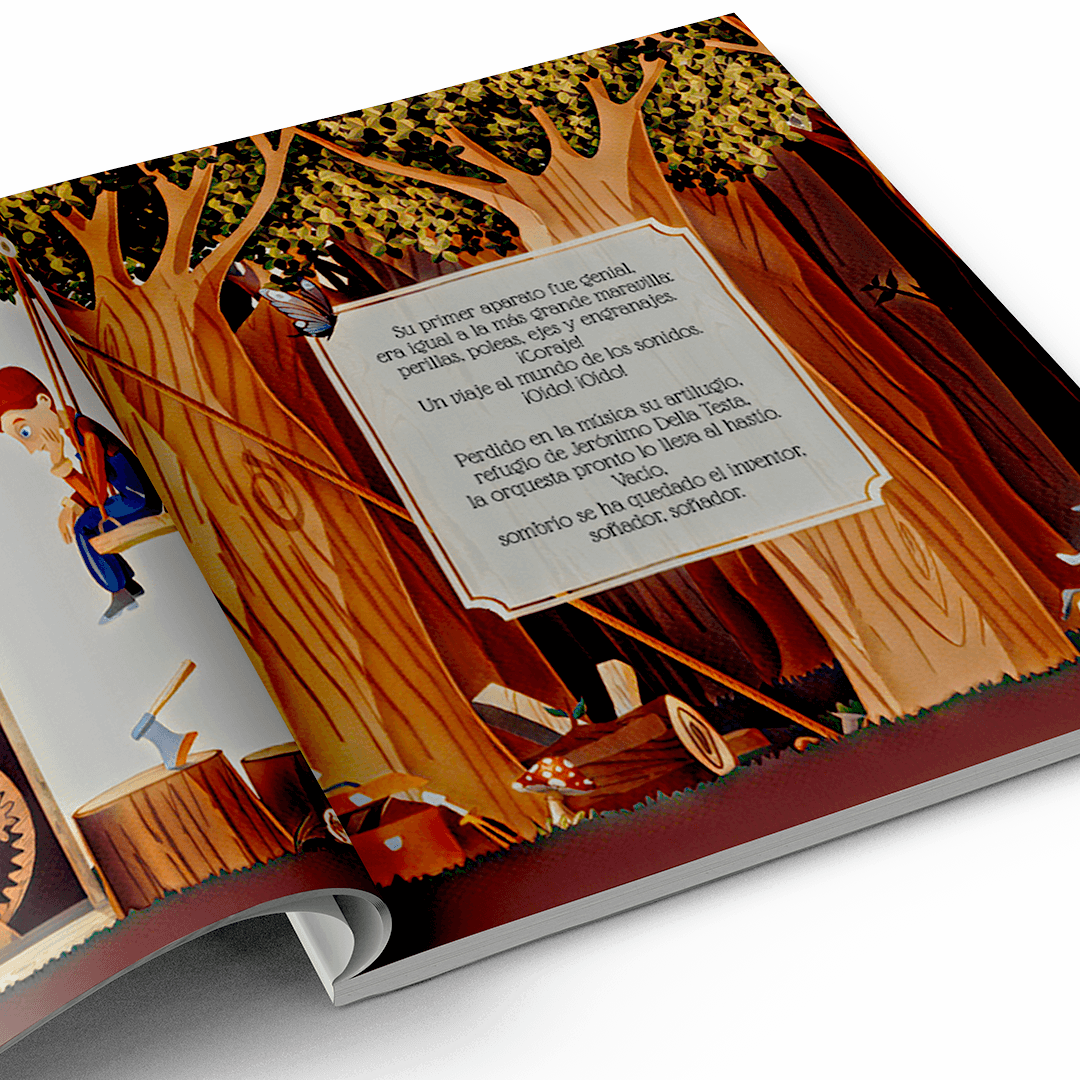 Porque es un libro muy ingenioso, escrito en una rima fascinante, que nos lleva a sorprendernos por el ingenio humano, a la vez que nos invita a ser conscientes del cuidado del medio ambiente, y a usar nuestra creatividad para preservarlo.
Porque sus ilustraciones son planos de autómatas funcionales y pondrán a los niños en contacto con maravillosos mecanismos y la forma en la cual funcionan. Además, las imágenes de este libro completan la historia del mismo. ¿Qué puedes descubrir entre sus páginas?
Porque sus ilustraciones evocan la magia del cine de sombras. Además, los códigos de color de sus fondos, invitan a dialogar sobre diferentes emociones que pueden ser sentidas por los personajes y el lector a lo largo de la historia.
Lo que dicen nuestros lectores
"Lo que más me gustó de este libro es que la tecnología no es enemiga de la ecología. Nos muestra cómo pueden convivir las dos en armonía. Como familia, nos encantaron las instrucciones sobre cómo sembrar un árbol, con latas y recipientes de plástico reciclado, hicimos un pequeño jardín".

"Más allá de la aplicación que trae, este libro tiene un mensaje muy importante sobre el cuidado de la naturaleza. La forma en la que está escrito es muy creativa, mi hija lo ama".

"Soy ingeniera y mi hija siempre está preguntándome cómo funcionan las cosas. Este libro ha sido una oportunidad muy linda de conectarnos a través del funcionamiento de los mecanismos de este libro. Al final, la historia nos sorprendió con su bello mensaje ecológico".
¡Descubre más libros mágicos!
Regular price

$70.000 COP

Regular price

Sale price

$70.000 COP

Unit price

per

Regular price

$48.000 COP

Regular price

Sale price

$48.000 COP

Unit price

per

Regular price

$48.000 COP

Regular price

Sale price

$48.000 COP

Unit price

per