Siete patitos en la laguna
Escrito por: Caio Riter e ilustrado por: Laurent Cardon

Esta es la historia de siete patitos y de un terrible yacaré. O… ¿tal vez eran seis? Lo cierto es que la laguna nunca más fue la misma después de que aquellos patos se encontraran frente a frente con Bernabé. Este libro álbum, perfecto para leer en voz alta, te sumergirá en una fascinante aventura poética, y hará que descubras todo el poder que tienen la risa, y la alegría.
Regular price
$48.000 COP
Regular price
Sale price
$48.000 COP
Unit price
per
Sale
Sold out
Written by Caio Riter and illustrated by
Laurent Cardon
Seven ducklings in the lagoon is the story of seven ducklings and a terrible yacaré. Or... maybe it was six? The truth is that the lagoon was never the same again after those ducks met face to face with Barnabas.
This wonderful album book, written by Brazilian Caio Riter, illustrated by Frenchman Laurent Cardon and translated by Lizardo Carvajal, will immerse you in a fascinating poetic adventure, and make you discover everything that can happen when some innocent birds decide to swim in the lagoon where Barnabas lives, the terrible yacaré.
Fall in love with a yellow-feathered story that you can bring to life with your phone, using augmented reality technology.
To see a free sample click Here.
Sheet
Title:

Seven ducklings in the lagoon

Isbn:

978-85-7848-111-7

Languages:

 

Spanish
Gender:

 

Children's literature
Edition:

 

1st edition
Year of publication:

 

2019
Pages:

48 pages

Number of illustrations:

 

22
Finish:

 

Soft cover
Dimensions:

22 x 22 cm.

Approximate weight:

169g
What Parents and Teachers Need to Know
Recommended Age
For small readers (from 6 years old).
Assisted reading from 3 years.
Teaching possibilities
It brings us closer to reflection on joy and laughter.
It allows dialogue around the power of simple things.
Artistic Elements
Digital illustrations in acrylic technique.
Articulate images, stories and sound by providing a complete sensory experience with the DuckTron app®.
Interactivity
Animate each illustration with a single tap on your phone screen.
Passes the page with a drag motion.
Descarga muestra gratis

Para ver una muestra gratis haz click aquí. 
Posiblidades pedagógicas

Posibilidades didácticas

Para pequeños lectores (a partir de 6 los años).

Lectura asistida a partir de los 3 años.

Posibilidades didácticas

Nos invita a ponderar la importancia de la alegría y la risa.

Permite dialogar alrededor del poder de las cosas simples.

Elementos Artísticos

Ilustraciones digitales en técnica de acrílico repletas de juegos y situaciones divertidas.

 Interactividad

Puedes animar cada una de las páginas del libro con la aplicación DuckTron®
Ficha técnica

ISBN: 978-85-7848-111-7
Idiomas: Español
Edición: 2ª edición
Año de publicación: 2019
Páginas: 48 páginas
Número de ilustraciones: 22
Acabado: Rústica con barnizado UV
Dimensiones: 22 x 22 cm.
Autores

Caio Riter

Nació en 1962, en Porto Alegre, donde aún vive. Es escritor, profesor, Doctor en Literatura Brasileña y becario postdoctoral en Escritura Creativa en la PUC-RS, ha publicado más de 60 libros, entre infantiles, juveniles, cuentos y poesía. Recibió varios premios, entre ellos los premios Azores, 1er Barco de Vapor, Edades - Anuario, Orígenes Lessa, Ofélia Fontes, además del Sello de Altamente Recomendado FNLIJ. Ya ha incluido sus libros en los catálogos de Bolonia y White Ravens.

 

Laurent Cardon

Nació en Francia y ahora vive en Brasil. Ha ilustrado más de cuarenta libros para niños y niñas. Fue galardonado en Brasil con el Premio Nacional del Libro Infantil y Juvenil. Dice: "Cuando no hago libros, veo cine y divido mi tiempo en veinticuatro imágenes por segundo, haciendo dibujos animados, comerciales, series o largometrajes que me llevaron a viajar por el mundo: España, China, Corea y recientemente Vietnam.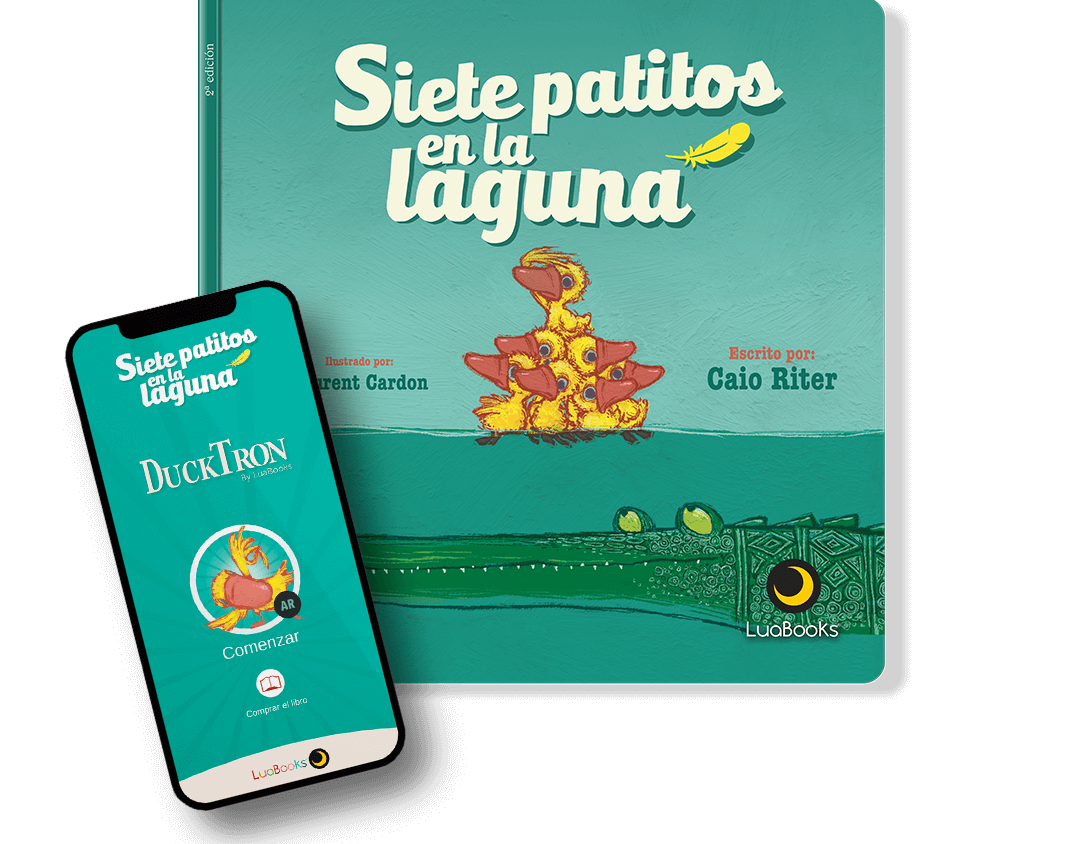 ¿Por qué dar a tu hijo este libro?
Porque es un libro muy divertido que plantea una reflexión dulce y cómica sobre el poder de la risa. Además, escrito en una rima simple, ayudará a los niños en procesos de mejoramiento del ritmo de lectura y desarrollo de habilidades matemáticas.
Porque establece un puente entre el juego y la literatura. Con DuckTron® podrás ver las imágenes de este libro en movimiento y ser parte activa de la historia.
Porque sus ilustraciones, realizadas con gran maestría, están llenas de situaciones divertidas que van más allá del texto e invitan a descubrir, a hacer juicios de valor e inferencias sobre lo que ocurre en la historia.
Lo que dicen nuestros lectores
"Trato de leer a mi hijo por las noches, pero es muy difícil tenerlo atento a una historia completa. Con este libro la cosa es distinta... siempre se vuelve a reír en las mismas partes y me ha pedido tantas veces que la lea que ya casi se la sabe de memoria. Me gusta mucho que enganche tanto a los niños y además presente un mensaje tan lindo".

"Empecé a enseñar a sumar y restar a mi hijo pequeña con los patitos de esta historia, ahora a los deditos de su mano (con los que cuenta los números) les dice "patitos" y yo obvio, me derrito de amor por él. Amamos este libro"

Compré este libro para leer en voz alta a mis estudiantes y es uno de sus favoritos (y de los míos también) Me encanta por todas las posibilidades que tiene: a través de este libro hemos hablado sobre no ir con extraños, sobre el valor que tiene la alegría frente a situaciones difíciles y también hemos sumado y restado. ¡Recomendado!
¡Descubre más libros mágicos!