Un gato de verdad
Escrito por: Lizardo Carvajal e ilustrado por: Eulalia Cornejo 
¿Qué se necesita para ser un gato de verdad? ¿Maullar toda la noche? ¿Cazar ratoncillos? ¡O tal vez solo se necesite un poquito de imaginación! En este libro ilustrado te encontrarás con la cotidianidad de un gato poco común que parece divertirse de manera insólita. Enamórate de esta historia felina repleta de imaginación infantil que invita a reflexionar sobre la identidad y las diferencias.
Regular price
$48.000 COP
Regular price
Sale price
$48.000 COP
Unit price
per
Sale
Sold out
Written by: Lizardo Carvajal and illustrated by: Eulalia Cornejo
What does it take to be a real cat? Maullar all night? Catch little mouses? Or maybe it just takes a little imagination! In this book-album you will find the daily life of a rare cat that seems to have unusual fun. Have you ever been a cat? Have you hated bathing in the morning? In the end we believe that we are all, deep down, a little Gatunos. Fall in love with a feline story that you can bring to life with your phone, using BookTron technology.
A real cat, a book wonderfully illustrated by the Ecuadorian artist Eulalia Cornejo combined with Lizardo Carvajal's blunt prose.
To see a free sample click Here.
Sheet
Title:

A real cat

Isbn:

978-958-58714-5

Languages:

 

Spanish
Gender:

 

Children's literature
Edition:

 3

edition
Year of publication:

 

2015
Pages:

 36

Number of illustrations:12
Finish:

Rustic.

Dimensions:

22 x 22

Cm.
Approximate weight:

 1

69g
What Parents and Teachers Need to Know
Recommended Age
For early readers (4 onwards).
Assisted reading from 2 years.
Teaching possibilities
It allows reflection on the possibility of being others, of putting ourselves in its place.
Imagination as a source of creativity and personality configuration.
Learn by aposition of the habits and behaviors of cats.
Artistic Elements
Digital illustrations in watercolor technique.
Articulate images, stories and sound by providing a complete sensory experience through CatTronAR®.
Interactivity
You can animate each page of the book with the CatTronAR®.
Download the app and run the machines through Augmented Reality.
Descarga muestra gratis

Para ver una muestra gratis haz click aquí.
Posiblidades pedagógicas

Edad recomendada

Para primeros lectores.

Lectura asistida a partir de los 3 años.

Posibilidades didácticas

Permite la reflexión sobre la posibilidad de ser otros, de ponernos en su lugar.

Posibilita el entendimiento de la imaginación como fuente de creatividad y de configuración de la personalidad.

Elementos Artísticos

Ilustraciones digitales llenas de color en técnica de acuarela.

 Interactividad

Convierte tu libro en un Pop-Up animado con la aplicación CatTronAR®.
Ficha técnica

ISBN: 978-958-58714-5
Idiomas: Español-Inglés
Edición: 4ª edición
Año de publicación: 2015
Páginas: 36
Número de ilustraciones: 12
Acabado: Rústico con barnizado UV
Dimensiones: 22 x 22 cm.
Autores

Lizardo Carvajal - Autor

Nació en 1979 en Cali, Colombia. Durante más de una década se ha dedicado a componer, ilustrar, escribir y animar contenidos para niños. Su obra, de carácter libertario y crítico, aborda de forma fresca y poética cuestiones profundas de la vida, llevando, a niños y adultos, historias certeras para el mundo de nuestros días.

 

Eulalia Cornejo - Ilustradora

Nací en Quito, un 4 de octubre. Desde niña hasta hoy me la he pasado haciendo garabatos, jugando con las imágenes, las palabras, las formas y los colores. He ilustrado varios libros para las editoriales de mi país. Soy también autora de tres álbumes ilustrados, Porque existes tú (Alfaguara) y Cuando los gatos verdes cantan (Trama), Enriqueta (Alfaguara). Me otorgaron el Premio único en ilustración Darío Guevara Mayorga del Municipio de Quito en los años 2000, 2001, 2006 y 2007. Gané un tercer lugar en el Concurso Internacional de Ilustración Noma-Unesco, Japón 2003 con mi libro Cuando los gatos verdes cantan. Soy ilustradora representante del Ecuador en la Lista de honor de la Ibby (International Board on Books for Young People) en los períodos 2006-2007 y 2007-2008.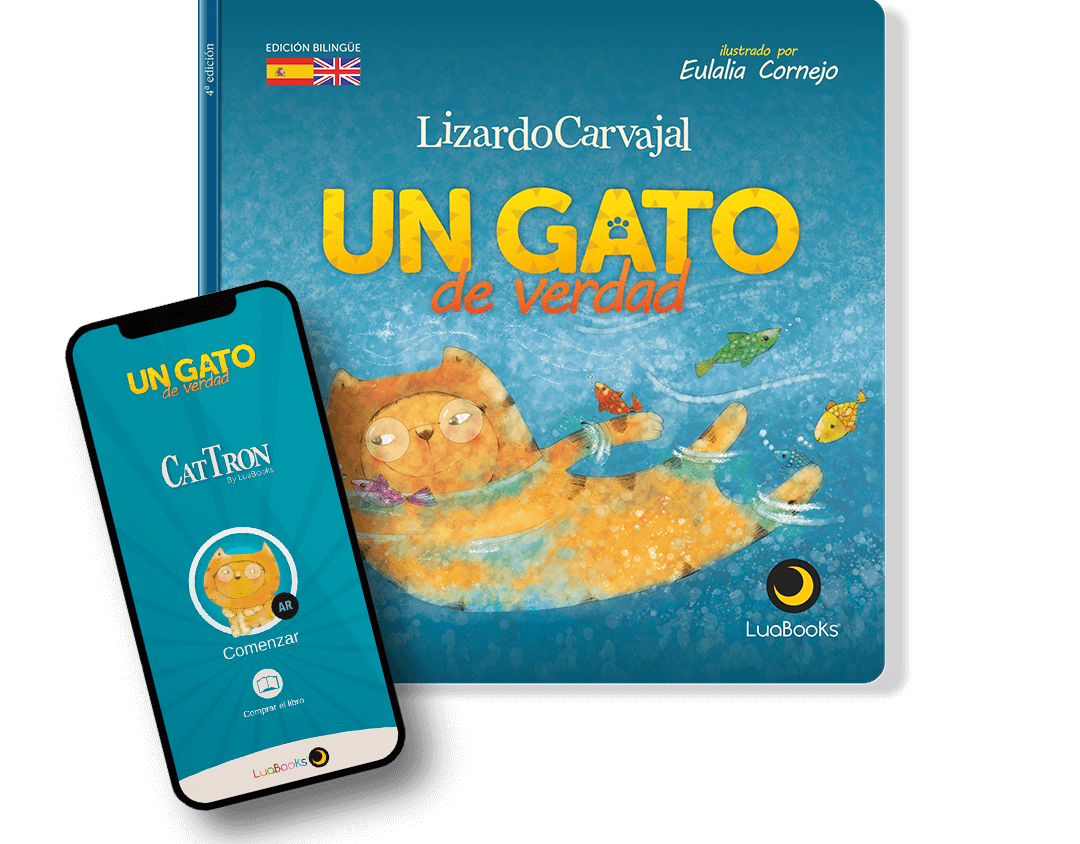 ¿Por qué dar a tu hijo este libro?
Porque es un libro divertido que presenta a un personaje muy especial con el que tu hijo, de seguro, se identificará. Además les permitirá, a padres e hijos, reflexionar alrededor del juego y la identidad.
Porque es un libro que dialoga con la tecnología. A través de la aplicación CatTron, podrás dar vida a todas las ilustraciones del libro, creando una experiencia completa de lectura, imagen en movimiento y sonido.
Porque posee ilustraciones coloridas y colmadas de imaginación, que invitan a leer más allá del texto, y a encontrar nuevas formas de contar la historia.
Lo que dicen nuestros lectores
"Este es un libro lleno de ternura, amor y mucha imaginación e interacción para los más pequeños de la casa. Más que recomendado para acompañar esos instantes antes de irse a dormir e ir a los sueños de la mano de la felicidad".

"Estoy feliz porque desde que mi hijo era bebé he querido que le gusten los libros, y siento que lo estoy logrando. Ya puede pasar las páginas y también sabe la canción que el gato les canta a los pajaritos. Ahora cada vez que ve un gato en la calle dice "¿cuento?", simplemente le encanta".

"Nuestro gato se llama rojo. ¡Un día descubrí a mi hija "leyéndole" el libro! Me encanta que hayan libros que estimulen tanto la imaginación de mi niña, y que le gusten a tal punto que quiera compartirlos hasta con los animales jajaja"
¡Descubre más libros mágicos!
Regular price

$70.000 COP

Regular price

Sale price

$70.000 COP

Unit price

per

Regular price

$48.000 COP

Regular price

Sale price

$48.000 COP

Unit price

per

Regular price

$48.000 COP

Regular price

Sale price

$48.000 COP

Unit price

per